The Rose Park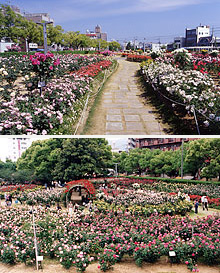 Citizens around Minami Park ( The Rose Park today ) planted about 1,000 rose seedlings in the year 1956. The Rose Park stems from it. After that, Minami Park was designated as a city-planned park, and since 1961 the rose flowerbeds, hedges, grass and park streets have been developed. In 1965 the park was renovated to a form closely resembling the park today, which became popular as "Rose Park" among the citizens. Today the number of roses amounts to 5,500 with 280 species.
| | |
| --- | --- |
| Address | 1-6 Hanazonocho, Fukuyama-shi, Hiroshima, 720-0803 |
| Directions | 20 mins from Fukuyama-higashi IC on Sanyo Expressway |
| Opening Days | 7 days a week |
| Admission Fee | Free |
| Parking Area | Free parking is available in the corner of the park. |
| Tel. Number | +81-84-928-1096 ( Parks and Forestry Division in Fukuyama-shi ) |
Fukuyama Castle and Fukuyama Castle Museum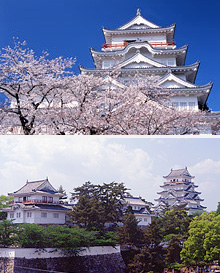 Fukuyama Castle was built by Katsunari Mizuno when he became the lord of the Bingo district, with 100,000 koku, in 1619 ( fifth year of the Genna Era ). Both the Fushimi-yagura and Sujigane-gomon gates are designated as important cultural properties of Japan. The interior of the donjon is used as a museum, where one can see the personal effects and other items a succession of feudal lords, along with archaeological and historical materials.
Address
( In Fukuyama Castle Park ) 1-8 Marunouchi, Fukuyama-shi, Hiroshima, 720-0061
Directions
a) 5 mins on foot from the north exit of JR Fukuyama Station.
b) 20 mins from Fukuyama-higashi or nishi IC on Sanyo Expressway.
Opening Hours
9:30 a.m. – 5:00 p.m. ( Visitors can enter until 4:30 p.m. )
Holidays
Mondays ( But if a Monday is a national holiday, it's closed on the following Tuesday. )
Admission Fees
Collection Exhibition: 200 yen for adults ( 160 yen * ), free for high school students and below


* Note: In case of a party of 20 people.

Parking Area
Available. It's shared with the parking area of Fukuyama Castle Museum and Fukuyama Museum of Literature. Please bring the parking ticket ( free for 1 hour ) to our reception desk for free parking. Free parking area for buses is also available. ( Reservation Required )
Tel. Number
+81-84-922-2117
Tonomoura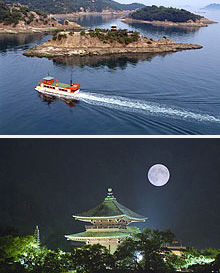 Tomonoura ( 鞆の浦 ) is a port town at the southern end of Fukuyama-shi, Hiroshima. Situated at a bay facing Seto Inland Sea, the picturesque port town features an endearing old-fashioned fishing townscape, with a calm and laid-back atmosphere. Tomonoura is part of Setonaikai National Park.
| | |
| --- | --- |
| Address | Bentenjima Island, Tomochotomo, Fukuyama-shi, Hiroshima, 720-0201 |
| Directions | Take Tomotetsu Bus from JR Fukuyama Station and get off at "Tomonoura." ( You cannot go to the island. ) |
| Tel. Number | +81-84-982-3200 ( Tomonoura Tourist Information Center ) |
Three Generation Theme Park Miroku-no-Sato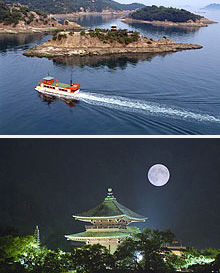 "Miroku-no-Sato," which spreads over a vast plain of 2,100,000 square meters, is a leisure area encompassing an amusement park, art museum, hot spring and accommodation facility. The amusement area, which features over 20 different attractions and a swimming pool zone, is very popular. In addition, "Itsuka-Kita-Michi," where old streets and houses of the 1950s have been faithfully reproduced, is popular as well. It's a fun, easy way to remember what life was like back in the "good old days."
Address
638-1 Fujiiecho, Fukuyama-shi, Hiroshima, 720-0543
Directions
30 mins by the nonstop bus from JR Fukuyama station (2 services on weekday, 4services on Saturday/Sunday/Holiday.)
15 mins by bus from JR Matsunaga station.
7 mins on foot from the bus stop.
25 mins by car from Fukuyamanishi Interchange on the Sanyo Expressway.
Opening Hours
10:00 a.m. – 5:00 p.m. ( It may change depending on the day. )
Opening Days
Open year round (Amusement equipmentsamusement facilities may not operate only on weekdays in winter), "Itsuka-kita-michi," old streets from the 1950s are open throughout the year round.
Admission Fees
Open year round (Amusement equipmentsamusement facilities may not operate only on weekdays in winter), "Itsuka-kita-michi",," old streets in 1950'from the 1950s are open throughout the year round.
Parking Area
Available.
Tel. Number
+81-84-988-0001