|Services in the Hotel|Parking Space|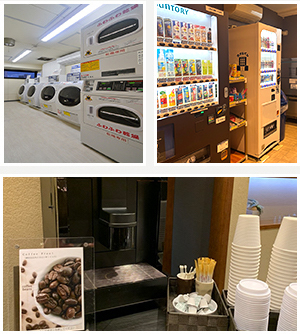 Computers

Computers for the internet are available at the lobby.

Laundries

Washing machine and dryer are available on the 8th floor.
Detergents can be purchased from vending machines in the laundry area.

Vending Machines ( 2F )

Soft drinks, beer, cigarettes, pre-paid cards for pay TV and so on are sold here. Microwave oven is available.

Drink Service

We serve coffee, water dispenser and ice at the 2F lobby lounge. Feel free to take them.
Others

■ Room Massage ( 4,500 yen / 45 mins ) can be reserved 9:00 p.m. – 2:00 a.m.
* For reservation, contact the front desk.
■ Rent-a-Cycle ( Free for Guests )
■ Express Delivery Service ( Yamato Transport )
■ Cleaning ( If you bring your clothes in the morning, it finishes in the evening. )
Clearning request is accepted ONLY ON WEEKDAYS.
■ FAX / Copy Service
Rental List ( Charged & Free )
■ LAN Cable
■ Humidifier / Air Purifier
■ Additional Pillow or Buckwheat Pillow
■ Blanket
■ Pants Presser
■ Others
・Mobile Charger ・Bicycle ・Light Stand ・Nail Clipper
・Glass & Thermometer ・Sewing Kit ・Wine Opener

* Please note that the quantities are limited.
Fukuyama Plaza Hotel has

"Science Ceramic Water Activator"

for our guests to use safe and body-friendly water.
That serves clean water from all faucets. Feel safe in using water here.

|Services in the Hotel|Parking Space|
Parking Space is available for customers visiting by car.
Feel free to contact us about it.
60 Spaces
For Guests:


1 unit for each room Free

and 1,000 yen additional for second 2nd unit.
1 free parking for 1 room, but we ask for 1,000 yen for 1 car each night in case you have 2 or more cars.
For Customers Just Taking Conferemce Rooms:
9:00 a.m. – 5:00 p.m.: 100 yen / 1 hr
After 5 p.m.: 300 yen / 1 hr
* There are cases when we refuse foreign-made cars.
* There are cases when we ask you to pass us your car key.
Large cars with 2 tons or more are charged additionally.


* Please contact us because there the space is limited.

2-tons Car x 1: 1,500 yen
3-tons Car x 1: 2,000 yen
Sightseeing Bus x 1: 4,000 yen